THE CHOIR
---
Director of Music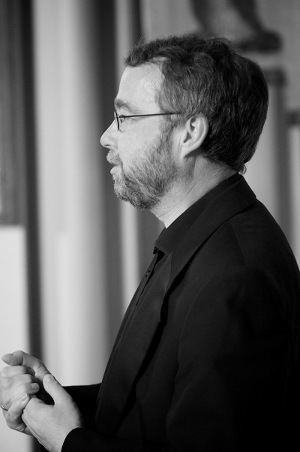 Simon Winters was educated at Bancroft's School, Woodford Green before reading Music at St. Anne's College, Oxford. He is a Fellow of the Royal College of Organists.
Besides teaching piano, organ, recorder and harmony at Brentwood and Chigwell Schools, Simon's conducting commitments include the chamber choir Felicitas, with whom he has recorded five CDs, given concerts in London as part of the Brandenburg Choral Festival and undertaken numerous foreign tours. He has been Musical Director of Epping Chorus (formerly Epping Church Choirs Association) since 2001 and in 2002 formed Epping Forest Voices, a choir which has sung evensong at many cathedrals including Westminster Abbey, St Paul's Cathedral and St George's Chapel, Windsor. In addition, he is Director of Music at St John's Church, Epping, a post he took up in 2005.
As an organist and pianist, Simon has played frequently in cathedrals throughout England and enjoys playing for local choirs and soloists. He is particularly busy at Chigwell School where he regularly accompanies the chapel choir, choral society and various instrumentalists and singers. He has recorded two CDs with the Chigwell School Chapel Choir and in recent years has accompanied the choir at Westminster Abbey, St Paul's Cathedral, the Royal Festival Hall and Canterbury Cathedral.
His Christmas Medley for Recorder consort has been published by Peacock Press. He has also composed a number of choral works including a Communion setting, a set of responses and a settings of Adam lay ybounden and O sing joyfully.
Choir Members
Sopranos
Grace Chitty, Caroline Foinette, Judith Fry, Adela Kay, Dianne Kennard, Carrie King, Faith Marchal, Melanie Spark
Altos
June Colley, Helen Cordina, Kate Evans, Chrina Jarvis, Anne Jones, Clare Scott Booth, Maggie Snook, Susanna Winter
Tenors
John Kennard, Jeremy Robinson, Matthew Smith, Malcolm White
Basses
Bernhard Credé, Bill Cumber, Ian Layzell-Smith, Piers Northam, Andrew Ratajczak